Hi All,
Here is a modified bike wheel SSG I recently built. It is a 27" alloy rim on what seems to be reasonable bike wheel bearings, originally made in Belgium.
The magnets are 18 pairs of 50mm x 20mm x 12.5mm ceramic #8 in super-pole configuration that are bonded to the rim with Selleys Liquid Nails High Strength. The wheel was then balanced by placing small pieces of lead on the spokes until there was no more rocking. Even though it has a slight wobble in it, I get over 25 minutes free spin time.
The coil is 5 x AWG#18 all 125' all 1.2 ohms, wrapped on a 90mm x 85mm Pittsfield spool with 1.6mm R60 welding rods for a core. The core is 18mm diameter.
The board is 4 x MJL21194, 100 ohms on each base, 50 ohm master resistor, 1N5408 - all matched.
Batteries are 12V 50Ah gels, used for a test run.
Machine likes to run at 0.5A draw current @ ~140RPM. Nothing gets warm at all.
I am currently doing the first load test, will post the results when they are done.
Thanks for watching the video.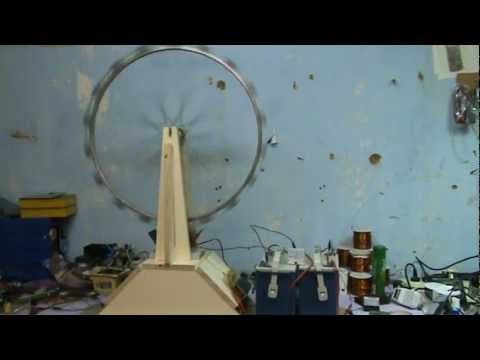 John K.