ZFM Video 20.4 6 Pole
So the next rotor configuration was designed to further explore the displaced magnetic poles of the coil. The static arc width of the individual coil poles was set to 56
0
by increasing the width of the Neo's to 0.75", unfortunately the Neo lengths and thicknesses available for this width are very limited. As a compromise the length was set at 1.5", a bit shorter than the rotor length of 2", with a coil to Neo gap of 0.130" +/-. Not ideal but useful nevertheless for exploring.
So the coil arc dimension is 45
0
and the Neo's are separated by an arc of 60
0
. So there remains a bit of play here that needs to be considered. That is the fun part and the most tedious to explore. For this config the overall length of the coil power on period is 49
0
taken directly from the screen shot. This value can be expanded or contracted a bit by the positioning of the reed mount with respect to the timing rotor face. The start of the power-on pulse (advance) can be controlled by rotating the reed mount cylinder.
Since the coil's magnetic poles function in a simultaneous push/pull manner on the 6 pole rotor the coil magnetic pole arc value becomes very important. One can design for the static configuration, but does this hold true dynamic operation? Good question...
Anyway, for the video the ZFM was operated at 48v to demonstrate the major point - BEMF value and its influence. By nature, adding more Neo's and coils for a given design will increase the BEMF. For this config the peak BEMF is typically ~15% higher than the input voltage at unloaded speeds. Reducing the number of rotor poles and motor coils will reduce the BEMF value for a given RPM. The reverse is true also.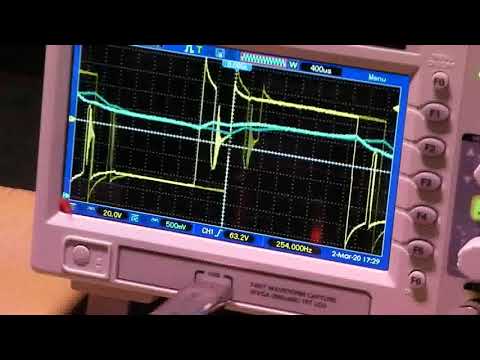 The load for the video was 1400 gr. yielding 25.5 watts or 18.8 ft lbs/sec of useful power at an efficiency of 46-47%.
Changing the wiring from series to parallel mode at 24v yields nearly identical results.
Yaro